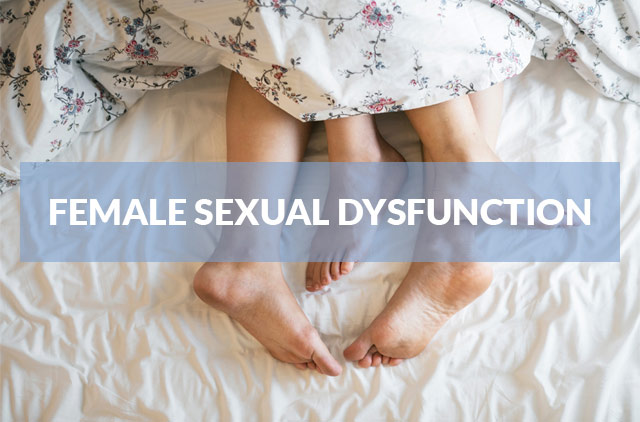 Sexual dysfunction is a common problem that is embarrassing for some people. Research has suggested that up to 43% of women and 31% of men experience some degree of difficulty during intercourse. Even though many people are reluctant to seek help, most cases are treatable.
Sexual Dysfunction Causes
Female sexual dysfunction causes fall into two categories: physical and psychological. The latter can have many sources including stress or anxiety related to work, relationship problems, depression, guilt, past trauma, or concern about sexual performance.
Physical causes are also varied. Health conditions that affect non-reproductive parts of the body can still impact sexual function. The most common physical causes include heart disease, diabetes, menopause, kidney disease, hormonal imbalances, neurological diseases, alcoholism, drug abuse, and liver failure. Some medications can also have a negative impact on sexual desire and performance.
Symptoms of Female Sexual Dysfunction
Several symptoms may indicate female sexual dysfunction. They include:
A lack of desire to have sex
Difficulty becoming aroused
Difficulty achieving orgasm
Painful intercourse (dyspareunia)
Treating Female Sexual Dysfunction
Sometimes, communicating with your partner can help overcome minor female sexual dysfunction. Providing feedback in a non-confrontational way can increase intimacy and help partners learn about each other's preferences. In other cases, the problem may require medical treatment that could include:
Estrogen Therapy – A vaginal ring, tablet, or cream may be prescribed to improve vaginal elasticity and tone which will enhance blood flow and lubrication.
Androgen Therapy – Women also require testosterone for healthy sexual function. Androgen therapy involves testosterone replacement in women with an androgen deficiency.
Other Medications – The selective estrogen receptor modulator Osphena (ospemifene) or Addyi (flibanserin) may be prescribed.
A gynecologist can help you determine the cause of female sexual dysfunction. Call your Women's Health OBGYN today to schedule an appointment. This is a real problem, let us help.