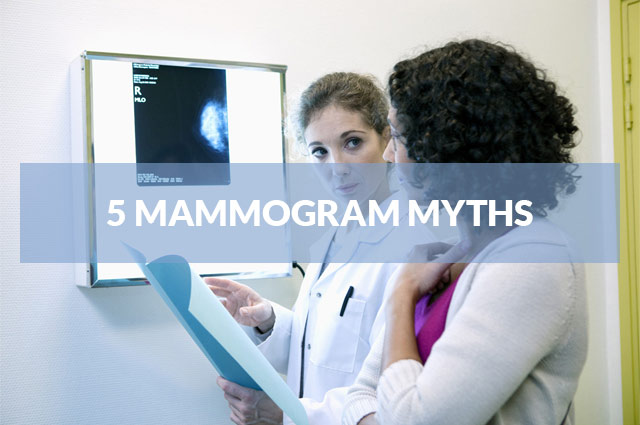 Despite the importance of mammogram screening, some women choose to skip it. Read on about common breast cancer myths.
Mammogram Myth 1: You Don't Need One if You Have No Family History
90% of breast cancer cases are not genetic. That means your family history will likely not influence whether or not you develop the disease. Do not rely on genetics as the only factor that will determine whether or not you end up with breast cancer.
Mammogram Myth 2: You Don't Need One if You Aren't Experiencing Symptoms
Cancer doesn't always show its hand right away. You can have it with no obvious symptoms. This is especially true early on when cancer tends to be in its most treatable state.
Mammogram Myth 3: Screenings Will Expose You to Dangerous Radiation
As long as you go to a certified facility such as Women's Health, mammograms are safe. The U.S. Food and Drug Administration sets guidelines for safe levels of radiation during screenings. We are exposed to background radiation each day. A mammogram exposes patients to an amount that's equal to around two months' worth of everyday background radiation.
Mammogram Myth 4: My Internist Didn't Mention It, So I Can't Schedule a Screening
Just because your internist didn't directly state that you need a mammogram doesn't mean you shouldn't schedule one. Every woman should have an annual screening performed. Your internist may assume that you regularly see your OB/GYN and have an appointment scheduled.
Mammogram Myth 5: My Last Mammogram Was Normal So I Can Skip This Year
A lot can change in the body over the course of 12 months. Just because your last mammogram was normal doesn't mean you can skip the next one. Keep up with your annual screenings to give yourself the best chances for early detection.
Contact your Women's Health OB/GYN to schedule a mammogram, now conveniently located right in their West Bloomfield office. Your OB/GYN can answer your questions about the procedure and breast cancer prevention.