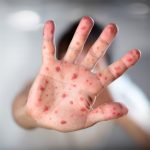 June 5, 2019, Pontiac, Mich. – Oakland County Health Division today announced the end of the largest local measles outbreak since 1991. The outbreak began in March when an ill traveler from New York visited the area. Forty of the 44 confirmed measles cases in Michigan occurred in Oakland County, and infected individuals ranged in age from eight months to 63 years old.
"Health Division leaders and staff worked tirelessly to combat this outbreak and protect the health and safety of Oakland County residents," said County Executive L. Brooks Patterson. "Their effort is a remarkable example of the dedication and care it takes to contain such a highly contagious illness."
The Health Division, in partnership with Michigan Department of Health and Human Services and local partners such as Young Israel of Oak Park, Hatzalah of Michigan, healthcare providers, and religious leaders, administered more than 3,300 measles (MMR) vaccines and held 17 special vaccine clinics in affected communities. A key part of containing the outbreak was providing technical assistance to healthcare providers, schools, childcare facilities, summer camps, and community organizations along with widespread community education efforts through press releases, media interviews, and social media. These efforts also improved access to vaccination opportunities and increased the community's overall knowledge of measles.
"The end of this outbreak is a true testament to the work of Health Division staff and our invaluable community partners," said Leigh-Anne Stafford, health officer for the Oakland County Health Division. "We are thankful that this outbreak has ended, and hope it also serves as a reminder of how important getting vaccinated is to prevent future outbreaks in Oakland County."
Measles remains a common disease in many parts of the world, including areas in Europe, Asia, the Pacific, and Africa. Confirmed measles cases have occurred in 26 states across the nation. Residents are strongly encouraged to review their vaccination history with a health care provider, especially before any travel. Vaccination is recommended if there is no record of MMR vaccine from a doctor or the Michigan Care Improvement Registry, vaccination status is unclear, or it is unknown if measles was diagnosed in the past. Pregnant women should not get vaccinated as this is a live virus vaccine. All women of childbearing age should avoid contact with those who have measles.
Measles is a highly contagious, vaccine-preventable disease that is spread by direct person-to-person contact, and through the air. The virus can live for up to two hours in the air where the infected person was present. Symptoms of measles usually begin seven to 14 days after exposure, but can appear up to 21 days after exposure and may include:
High fever (may spike to over 104˚F)
Cough
Runny nose
Red, watery eyes (conjunctivitis)
Tiny white spots on the inner cheeks, gums, and roof of the mouth (Koplik Spots) 2-3 days after symptoms   begin
A rash that is red, raised, blotchy; usually starts on face, spreads to trunk, arms, and legs 3-5 days after symptoms begin
The MMR vaccine is available through some health providers, Oakland County Health Division offices in Southfield and Pontiac, and many pharmacies. Health Division offices are located at the following addresses:
North Oakland Health Center, 1200 N. Telegraph Road, Building 34 East, Pontiac
South Oakland Health Center, 27725 Greenfield Road, Southfield
The MMR vaccine is a two-dose series and costs $71 per dose. There is a $7 fee per vaccination, per client. The Health Division accepts Medicaid, Medicare, Vaccines for Children (VFC) program, cash, and credit. VFC offers vaccines at no cost for eligible children. There are additional fees for credit card payments. No one will be denied access due to inability to pay. There is a discounted/sliding fee schedule available.
For more information about measles, visit www.oakgov.com/health or call Nurse on Call at 800-848- 5533, Monday through Friday, 8:30 a.m. – 5:00 p.m. For up-to-date public health information, follow @publichealthOC on Facebook and Twitter.
For media inquiries only, please contact Leigh-Anne Stafford, Health Officer for Oakland County Health Division, at (248) 858-1410.