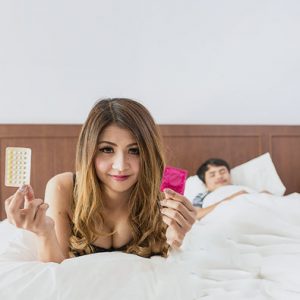 For centuries, men and women have been searching for contraception methods that are reliable and safe. Today, we have more options available than ever before. While the pill and condoms are the most well-known solutions, there are many others that can be very effective.
A thin rod is implanted in the body to release hormones to stop pregnancy. This method is about 99% effective.
The patch is worn on the upper arm, belly, back, or buttock and must be replaced weekly for a period of three weeks. There is a one week break before the cycle begins again. This method is 91% effective.
The Depo-Provera shot must be administered once per three months. It's convenient and reported to be 94% effective.
The vaginal ring is a small flexible ring placed in the body to release hormones. It's safe, affordable, and around 91% effective.
Regular breastfeeding stops ovulation. Some women use this as birth control during the first six months after having a baby. This method is 98% effective during this time-period.
Intrauterine Device (IUD)
An IUD is a T-shaped birth control device placed in the uterus. It can work for many years and requires no other maintenance. The average IUD is around 99% effective.
The diaphragm is a bendable cup placed in the vagina that covers the cervix. This method is 88% effective.
The female condom works much like a male condom, however instead of going on the penis it is placed inside the vagina. This method is 79% effective.
Female sterilization, also known as "getting your tubes tied," involves a surgical procedure with permanent results. This method is 99% effective.
Also known as a vasectomy, this birth control method involves a surgical procedure that prevents sperm from leaving the body. Just like the female version, it is permanent and 99% effective.
Find the Best Contraception for You
The best birth control method will depend on your situation and future family plans. Some questions that are important to think about when determining which contraceptive method is suitable for you:
Do you ever want to have/have more children?
Do you need a contraception that also protects you from STDs?
Is cost a factor?
What is your age?
Have you been diagnosed with an illness and/or take medication(s)?
Talk to your Women's Health and Menopause Center obstetrician/gynecologist to discuss the best option(s) for you and your lifestyle to find a birth control solution that works for you. Make an appointment today!