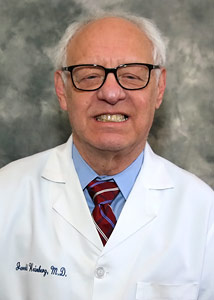 Dr. Weinberg has a deep and abiding interest in finding better ways to help women with their medical needs. In his practice, he focuses on all of the issues women face during menopause, offering information and treatment options for women at all stages. He is one of only a few physicians in Michigan to be certified as a menopausal clinician by the North American Menopause Society.
"For all my patients, my goal is help them cope with menopause in the best possible way, and live a healthier, happier, more enjoyable life than ever before," he says. Dr. Weinberg has authored many articles and papers, given countless presentations around the world, served as a clinical instructor and received numerous honors and awards. Dr. Weinberg admits patients to Henry Ford West Bloomfield and Huron Valley-Sinai hospitals.
Dr. Weinberg's specialty interest is menopause, including hormone and estrogen replacement therapy, alternatives to hysterectomy, diet and nutrition, herbal supplements, cryoablation for heavy or long-lasting menstrual periods, and screening for osteoporosis, breast cancer, and heart disease.
Board certified:

Obstetrics and Gynecology
Menopausal Clinician

Medical Degree:

Wayne State University School of Medicine
Residency:
Sinai Hospital of Detroit